Class 24
Textiles and substitutes for textiles; household linen; curtains of textile or plastic.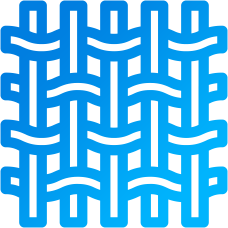 Class 24 includes mainly fabrics and fabric covers for household use.
This Class includes, in particular:
household linen, for example, bedspreads, pillow shams, towels of textile;
bed linen of paper;
sleeping bags, sleeping bag liners;
mosquito nets.
This Class does not include, in particular:
Adhesive fabric for application by heat; Fabric, impervious to gases, for aeronautical balloons; Fabric imitating animal skins; Upholstery fabrics; Bath linen, except clothing; Banners of textile or plastic; Billiard cloth; Fabric*; Bolting cloth; Buckram; Brocades; Textile material; Cloth*; Canvas for tapestry or embroidery; Trellis [cloth]; Hemp fabric; Hemp cloth; Hat linings, of textile, in the piece; Lining fabric for footwear; Fabric for footwear; Table runners, not of paper; Cheviots [cloth]; Oilcloth for use as tablecloths; Velvet; Felt*; Cotton fabrics; Bed covers / bedspreads / coverlets [bedspreads] / quilts; Mattress covers; Tick [linen]; Bed covers of paper; Tablecloths, not of paper; Travelling rugs [lap robes]; Crepe [fabric]; Crepon; Damask; Lingerie fabric; Linings [textile]; Bedsheets; Shrouds; Flags of textile or plastic; Bunting of textile or plastic; Drugget; Eiderdowns [down coverlets]; Elastic woven fabrics; Curtain holders of textile material; Glass cloths [towels]; Traced cloths for embroidery / traced cloth for embroidery; Flannel [fabric]; Frieze [cloth]; Cheese cloth; Fustian; Bath mitts; Gauze [cloth]; Gummed cloth, other than for stationery purposes; Haircloth [sackcloth]; Covers [loose] for furniture / loose covers for furniture; Silk fabrics for printing patterns; Printed calico cloth; Jersey [fabric]; Jute fabric; Woollen cloth / woollen fabric; Linen cloth; Bed linen; Diapered linen; Table linen, not of paper; Household linen; Towels of textile; Marabouts [cloth]; Ticks [mattress covers]; Furniture coverings of plastic / coverings of plastic for furniture; Table napkins of textile / serviettes of textile; Moleskin [fabric]; Handkerchiefs of textile; Mosquito nets; Pillowcases; Plastic material [substitute for fabrics]; Door curtains; Ramie fabric; Rayon fabric; Curtains of textile or plastic; Face towels of textile; Silk [cloth]; Tulle; Esparto fabric; Taffeta [cloth]; Knitted fabric; Net curtains; Zephyr [cloth]; Calico; Coasters of textile; Tablemats of textile; Non-woven textile fabrics; Sleeping bag liners; Cloths for removing make-up; Labels of textile; Wall hangings of textile / tapestry [wall hangings], of textile; Fibreglass fabrics for textile use / fiberglass fabrics for textile use; Filtering materials of textile; Printers' blankets of textile; Chenille fabric; Pillow shams; Place mats of textile; Bed blankets; Covers for cushions; Fabrics for textile use; Furniture coverings of textile; Fitted toilet lid covers of fabric; Shower curtains of textile or plastic; Diaper changing cloths for babies; Blankets for household pets; Sleeping bags for babies; Baby buntings; Sleeping bags; Bed valances; Cot bumpers [bed linen] / crib bumpers [bed linen]; Muslin fabric; Bivouac sacks being covers for sleeping bags; Picnic blankets; Tea towels / dish towels; Dimity; Reusable wax-coated fabrics for wrapping food; Mats of textile for beer glasses; Sew-on tags of textile for clothing; Adhesive tags of textile for bags; Yoga blankets; Yoga towels; Bedsheets of leather.